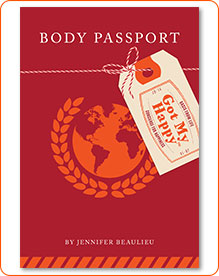 For your reading enjoyment, here's the Table of Contents from my Body Passport book. I made it just as inspiring as the rest of the book. Take a look:
Here's the Story
The Story Continues
Introduction
Body Vitals Not to be Missed
The Happy Inside Happiness
Here's Your Gold Medal
Now a Very Hairy Situation
First Hairy, Now Gross
Skin is "In"
We're Just People
The Right Connection
Nature's Calling
A Time to Travel
Okay. Enough. Get Back to Work
Your Stress is Your Baggage
It's So Great to Be You
The World Can't Get Enough of You
Dress to Impress Yourself
Your Feet Need a Rest Stop
Energize Your Energy
The Thirst For It All
Finally, We Can Eat
Remove the Tag so There is No Size
Keep Renewing Your Body Passport
Your Age Is Just a Number That the Whole World Wants To Know
Mind/Body/Spirit Fusion
The Destiny of Life
Body Check so as Not to Wreck
Rated "H" for Human
The Spoken Word Masterpiece
Got My Happy … Right Now … Forever
For The Love of … Humanity
Your Body's Age by the Numbers and It's Corresponding Milestones
Body Image Test Answers
Body Passport Happiness Pledge
The Disclaimer Speaks
Body of Work
Acknowledgements
If you like what you have read so far, you can get my book on the Shop Page of this website. The print copy is a limited edition & there's a free gift with purchase while supplies last. Thanks for visiting & come back soon!