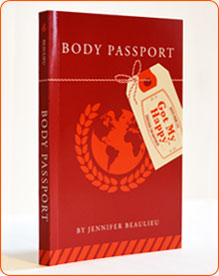 Would you like to know what the free gift is when you buy the PRINT COPY of my Body Passport book? Okay then! It's a stainless steel military style logo dog tag & chain (not pictured on this website). How cool is that? You can read my Body Passport book & then have fun wearing the dog tag. It's a limited edition dog tag & it's available while quantities last-so get yours today. Again, it's free with the purchase of a PRINT COPY of my book while they last.
As a side note, the dog tag that is for sale on the Shop Page is not the free gift. It is an enamel white/orange/silver dog tag with a chain & you can buy it if you like. A big THANK YOU to those who have already bought my book & dog tags!
Another side note, if you would like to read some excerpts from my book, please read the various blogs on this website as the excerpts are contained within some of them.
Finally, here is a new excerpt from my Body Passport book from the chapter titled "Here's Your Gold Medal":
When you've achieved your personal Happiness because you went after it, other people will notice your seemingly unending Happiness, your magic carpet ride of Happiness. This is how you know you've obtained ultimate Happiness. They notice. Own your Happiness and wear it like a medal of honor.
Now this is a good reason to wear a Got My Happy™ dog tag don't you think? Yes!!!