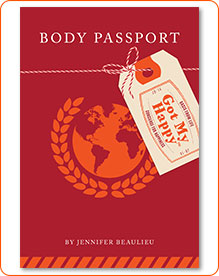 Now it is time for the test. Just kidding. There is no test-only answers. Just the way you like it. Here are the Body Image Test Answers from my Body Passport book. They're meant to make you feel more confident & comfortable with your body. They are as follows:
Body Image Test Answers
(You skipped the test)
-My body is my tour guide for life & that's why I need my Body Passport
-My body image doesn't interfere with my experiences because I like the way I look. I like myself a lot. My body image doesn't hinder my relationships with others. I have complete body Zen.
-My body treats me well because I treat it well. I know its limitations. I don't listen to it 100% of the time, as I'm tempted on a daily basis, but I do the best I can.
-My body isn't a burden to me. I accept my body's flaws but I don't need to admit them to anyone.
CONGRATULATIONS! YOU PASSED! Now you are ready to take the pledge:
Body Passport Happiness Pledge
I pledge that I will be happy with my body no matter what. I will treat it the best I can & accept all of
its flaws because it is only human. I will find peace in my body & with my body because it is my greatest treasure.
If you would like even more "Happiness" wisdom like this, you can get my Body Passport book/ebook on the Shop Page of this website. Thanks for visiting GotMyHappy.com!