Here are the May Daily Celebrations that I have posted on Twitter, Facebook and Pinterest. Some are International Days of Celebration and some are National Days of Celebration specific to the U.S. The wisdom though is universal and timeless:
Lemonade Day. Peel your lemons & make lemonade. Open up your own stand, brand it your way & sell millions of glasses of lemonade.
May is bike month. Make sure you have a comfortable seat for a great ride. Get a new seat if you need to then enjoy the ride.
A big "Thank You" to all teachers on this Teacher Appreciation Day. Your knowledge & guidance helps students & makes the world a better place.
Hats off to all firefighters on this Firefighters Day. Thank you for your dedication to saving others. Your heroism is inspiration for us all.
There's a party going on-it's Cinco De Mayo! Have a hot & spicy day & enjoy this colorful & flavorful celebration with lots of beverages!
Nurses Day to appreciate nurses who care for us & our health/well-being. Thank you all for providing compassionate care.
Military Spouse Appreciation Day. Thank you military spouses for all that you do every day to hold down the fort at home.
May is photo month so go beyond the selfie. Take some amazing photos of nature, pets & friends.
Happy Mother's Day! Thank you to all the great Moms out there for all that you do! Enjoy your special day!
Ladies-it's Women's Checkup Day so get your annual physical, wellness exam & health screenings. Let prevention be your best medicine.
Mother Ocean Day. Go there & enjoy it if you are close. If not, find the ocean on You Tube in an ocean relaxation video with ocean sounds.
Foam Rolling Day to give your muscles a massage. A foam roller is a tool you can use at home to reduce stress. Try it & see if it works for you.
Odometer Day. Check your odometer & get your car serviced if needed. Keep up with the maintenance so it's always ready for more adventure.
Friday the 13th so take a deep breath. Go to work then come home. Do the status quo to survive today & save doing anything crazy for tomorrow.
Unlike regular golf no fancy attire is needed for Miniature Golf Day. It's a perfect game for everyone to look cool so go putt putt through.
Straw Hat Day-the ideal tropical hat for spring/summer. It's a fashion statement & protection from the sun. Wear yours for Sunday Funday fun.
Celebrate Get Caught Reading Month with my Body Passport book. You'll want to get caught reading it!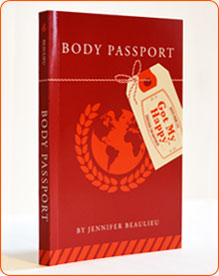 For further inspiration, please visit the shop page of this website for my Body Passport book and a nice dog tag too!