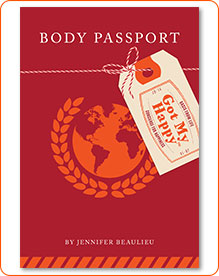 Here's something to make you laugh. It's from the chapter "Your Body's Age by the Numbers and Its Corresponding Milestones" from my Body Passport book. Take a look:
1 year old
Your first birthday on planet earth. Don't you wish you could remember it?
12 years old
Puberty strikes. Your body says "What is going on?"
16 years old
Freedom arrives. You can get a driver's license now.
21 years old
You officially become an adult. There's no going back now. (Why would you?)
25 years old
One fourth of your life is already over and you don't even realize it because you're still young. That's okay. You still have three fourths to go.
30 years old
You're a whole lot smarter than 20 and you're still young.
40 years old
You thought 30 was good but 40 is even better. Your smarter and you have more money to spend.
50 years old
Well, half of your life is officially over now, but you still have half to go!
65 years old
The old retirement age so you're going to have to hang in there and work a little bit longer until you're 70. Maybe 80.
75 years old
Three fourths of your life is over now. Time to really live it up! Nothing matters anymore because you only have 25 years left to live.
80 years old
The new 60! People are looking younger and better than ever including you!
90 years old
You've outlived some people you know so you start to make new friends.
100 years old
You made it! You're 100 years old! The new life expectancy has now become 150 years so you have 50 years to go!
For more humor like this, you can get a copy of my Body Passport book. It's available for purchase on the Shop Page of this website!