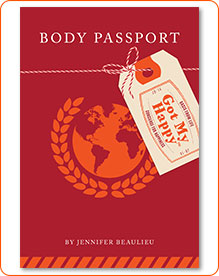 Here's another excerpt from my Body Passport book. It's from the chapter titled "Rated "H" for Human". I thought you might like it. Take a look:
Your body creates its own formations. It makes a shadow for you in the sun. Its image is captured in a photo. It can be a statue for an artist to draw. Your body makes a snow angel when you lie down in the snow. It creates another human being. It makes a reflection in a mirror. It creates its own ghost when seen through night vision binoculars. Is your body not the coolest thing? Artwork made from your body is always a masterpiece.
People-watching is a hobby. People want to know what other people are up to. You might have this curiosity as well because you want to feel normal, to know you're okay and to see that all is right with the world. To watch or not to watch (people), that is the question. It all depends upon who and what you're watching.
It's better to have no expectations when doing something for the very first time. Expectations can leave you disappointed. The only thing you need to know: Is the experience worth having? If yes, then be surprised!
Your human nature favors your animal nature. Your instincts take you there. You surrender often. What makes you human is that you care.
How exciting was that? Want more? You can get my Body Passport book on the Shop Page of this website. Also, have you seen the dog tag? It's available on the Shop Page as well. It's so cute. Thanks so much to all of you who have purchased both so far! Glad you like them. Thanks to all visitors!