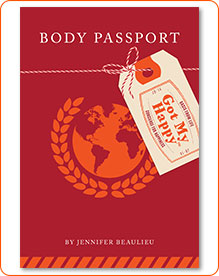 Body Passport was written over a nine month time period or so. It's important to know this since it's a short book that looks like it could have been written in an hour. It's a compilation of learnings (both school learnings & street learnings) based upon 49 years of blue collar, white collar, & no collar life experience on this earth. It's written in a way that is easy to read, to learn and to remember―in small bits of wisdom. It came to fruition after a job loss and some divine intervention. The goal of this book is to help you especially if you are dealing with stressful life or work moments. It represents Real Attainable Happiness in the Real World. Whether you're having a bad day or even if you're having a good day, the purpose of the book and of the website is to make it even better. Here now is the Introduction for Got My Happy™: Body Passport:
In order to achieve your Happy, you need to start with your body. "Why?" You might ask. Well, if your body isn't in a good place physically, it will block you from obtaining Happiness. You need to find peace in your body and with your body first. In your life, you'll only have one body. It's your greatest treasure, yet you might not always treat it as such. Physical Happiness is part of the Happiness package. You have to find a way to get Happy with your body. Treat it is as best as you can and accept its flaws. It's only human. Here's your Body Passport and some tips ...
So what do you think? I hope that you like what you've read so far. If you do, this book is for purchase as an ebook on the shop page of this website. All of my website Blogs and my social media Tweets & Posts are original and are complimentary. Enjoy!