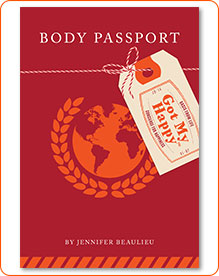 Happy New Year! Happy 2017! I hope that you enjoyed your holidays & that your New Year is off to a great start. I thought that it would be the perfect time to share more insights with you from my Body Passport book to make your New Year even better. These are some tips from the chapter titled "Got My Happy … Right Now … Forever" to help make 2017 your Best Year Ever! Here you go:
-Create your own Personal Mission Statement. What do you want to accomplish while on planet Earth and what do you want your legacy to be? Identify your passions, talents and values you can share with the world to leave your mark. Show the world you're a V.I.P. because you lived your life with purpose.
-Make this New Year's Resolution to clean the slate and make things right with those you've wronged or those who have wronged you. Make peace with them so you can start the New Year fresh, so you can move on, and so it won't be bothering you when you are trying to fall asleep. Then your sleep will be peaceful.
-Have a working Bucket List. Check off something every day, week or month. Your list is probably longer than you think. Start working on it today because time is running out.
-Capture your Body of Work. Take photos. Make videos. Write a book. Create a website. No matter how you choose to do it, capture the work you have done or created during your lifetime.
Besides these tips, you can refer back to a couple of blogs I wrote last year that tie in with the New Year to inspire you as well:
Your Best January Ever
Self-Improve Yourself
Finally, if you like what you have read so far, you can get my Body Passport ebook & print book on the Shop Page of this website. For even more fun, you can get a dog tag too! Thanks for visiting & come back soon!