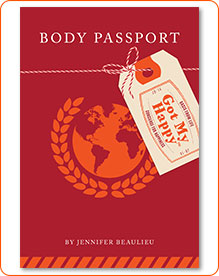 Your wait is finally over. Got My Happy™: Body Passport is now available as a limited edition print copy. Retail is $14.95 but on this website it's only $10.00 plus shipping in the US-and you get a free gift with your purchase. Order now because quantities are limited.
The book is the size of a passport (it fits the title). The description is: Anecdotes of Happiness, a lifetime of Happiness in one book from lessons learned. It's attainable, real Happiness in the real world. The goal of the book is to help those dealing with stressful life or work moments.
If you prefer, you can still get it as an ebook on the shop page as well along with a dog tag. My blogs will continue to be complimentary. When you get a chance, please check all of this out!