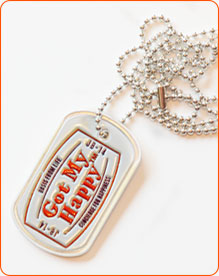 Welcome to GotMyHappy.com if you are a new visitor & welcome back if you are a returning visitor! As you will see, this website is all about you & your Happiness. The daily celebration blogs are meant to inspire you & to encourage you to celebrate every day. If you would like to receive these inspirational celebrations daily, you can follow @gotmyhappy on social media. Now here's more inspiration for you:
Record Store Day. Take a walk down memory lane. Go wander in & flick through some records. Enjoy the nostalgia & fond memories it brings back.
Blah Blah Blah Day for you to stop talking & start doing that project. Finish it so no more blah blah blah
Animal Cracker Day-yet another chance to be a kid again. Eat some animal crackers & plan a trip to the circus for even more kid fun.
Garlic Day-smelly yes, but healthy & healing. To celebrate, eat garlicky cuisine later on in the evening for that reason & mints for dessert.
Chinese Language Day. Learn to speak a few words of one of the world's most widely spoken languages. When written, it looks like art. Try it.
Poem In Your Pocket Day-a unique way to bring joy & stand out. Find a poem to carry with you & recite. Be a modern day Shakespeare.
Earth Day to protect the earth. Practice sustainable living by doing the 3 R's-Reducing, Recycling & Reusing. You know what to do. Just do it.
Picnic Day so dine al fresco with your favorite people & eat finger food for fun. Play frisbee or fly a kite to add to this food adventure.
A must read for World Book Day Got My Happy™: Body Passport. It's Attainable Real Happiness. It's available on the shop page of this website.
It's Sunday Funday so put your spring bucket list together then go & do something on the list!
Text or call those you know & say "Hello" because it's Telephone Day. Leave a funny message if no answer to announce this day.
Pretzel Day. Celebrate & make a pretzel necklace. Then you'll be ready for a beverage tasting with pretzels to cleanse your palate.
Administrative Professionals Day to express gratitude to all assistants & support professionals who run the show. Say thanks your way to yours.
Take Your Child To Work Day-a great day for parents/children to bond. Share your work passion with your family passion & take your child to work.
Arbor Day to celebrate trees. Plant/care for a tree or visit an arboretum & appreciate the trees.
Sense of Smell Day. To celebrate go to a fragrance counter or candle store & find a new scent to love. Smell each one until you do.
For even more inspiration, you can purchase my book Got My Happy™: Body Passport on the shop page of this website. The retail price is $14.95, but on this website it's only $10 plus shipping in the U.S. There's a free gift with purchase of the print copy while supplies last. Get yours today!