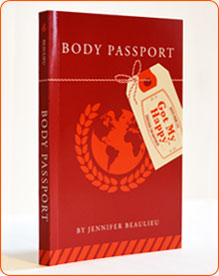 First, to all of you who have purchased my Body Passport book so far-Thank you! You have liked it so much that you have even recommended it to your family & friends. Thank you. Thank you. Thank you!
For those of you who haven't bought it yet, here's why you should. The description is: Anecdotes of Happiness, a lifetime of Happiness in one book from lessons learned. It's Attainable, Real Happiness in the Real World. My intentions are to help you to be your best, happiest you. How does that sound?
The retail price of the book is $14.95 but is only $10 plus shipping in the U.S. on this website. It's a great deal just for you! There's even more good news. When you purchase a print copy, you get a free gift with purchase. Order now because quantities are becoming extremely limited.
If you prefer, you can still get Body Passport as an e-book. Both the e-book & print book are available for purchase on the Shop page of this website. Also, you can buy a logo dog tag on the Shop page as well. It's $5 plus shipping in the U.S. Let the world know you got your happy & wear it proudly.
Finally, all of the blogs that I have written so far, are still complimentary. Please spend some time if you like going through all of them so you are up to date. All the articles are cataloged to the right of this blog. Enjoy!