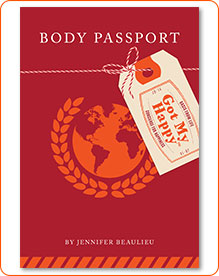 The holidays are in full swing. Between the food, family, friends, gifts, parties, decorations & lights, it's one of the happiest times of the year. I did want to send along more inspiration regardless. These are from the daily celebrations in my social media tweets & posts. I write them to inspire you to celebrate something every day. For even more inspiration beyond that, you can read all of my other blogs on this page if you haven't already. They're complimentary. Also, you can get my book Got My Happy™: Body Passport which is available for purchase on the shop page of this website as a holiday gift to yourself. The inspirations for today are:
It's Clean Your Refrigerator Day so clean out the fridge today before the family gets into town for the holidays. If it's already clean-yahoo!
It's I Love to Write Day. I love to write so much I wrote a book. Got My Happy™: Body Passport is Attainable Real Happiness in the Real World.
National Fast Food Day. Here's how to improve your diet-only eat fast food on fast food day. That's your food challenge. Are you up for it?
Entrepreneurs' Day. If you are one, thanks for your innovation to further the world. We celebrate you today. If you want to be one, talk to one.
It's Mickey Mouse Day-a day to celebrate a mouse who became an icon. All of your big dreams may start small. Today reminds you to dream big.
It's Men's Day so guys get a physical (yearly) to focus on health. Today, hang out with the guys in the gym, man cave or club to bond & celebrate.
It's Absurdity Day-a day to visit the 4 corners of your mind. They're open 24hrs. You don't know what creativity you might find so visit there.
It's World Hello Day so say "Hello" to as many people as you can today. Bonjour, Ciao, G'Day, Guten Tag & Hello to all around the world!
It's Go for a Ride Day & you may already be doing this today. Airplanes are flying & cars are driving, taking you to your holiday destination.
Fibonacci Day. It's Italian math-a way of counting that forms spirals in nature & art. Be on the lookout for spiral shapes today.
Celebrate You Unique Talent Day. Do all you can to showcase your talent today. Post it on social media, make a video or host a talent show.
Parfait Day. In French that means perfect. A parfait is perfect when it has protein & good carbs. Have a parfait day & have one today.
Happy Thanksgiving Everyone! Enjoy the holiday. To those not in the USA, Happy Thursday!
It's Buy Nothing Day & Black Friday-very yin yang with 2 opposites on the same day! You can buy nothing & have other fun or shop nonstop for fun.
It's Small Business Saturday so support a local business today. Find one-of-a-kind gifts. Shop small business for these treasures & more.
Aura Awareness Day. Your aura is the energy field that embraces your body. Keep it charged with goodness to always feel uplifted.
It's Cyber Monday with deals galore-deals, deals & more deals! Shop online & see what you can find!
That's all for right now but there will be more to come. Finally, Happy Holidays to you! I hope that you and your family have a wonderful holiday season filled with Happiness! Thanks for visiting today & please come back & visit in the New Year to get fired up for 2016!